3 Harbour Green's Penthouse was redesigned and custom furnished in 2016 by Karin Bohn of House of Bohn, an award-winning, globally-recognized design studio. As we've collaborated with Karin on a number of luxury property listings, we knew this listing would be no exception in terms of the finer details.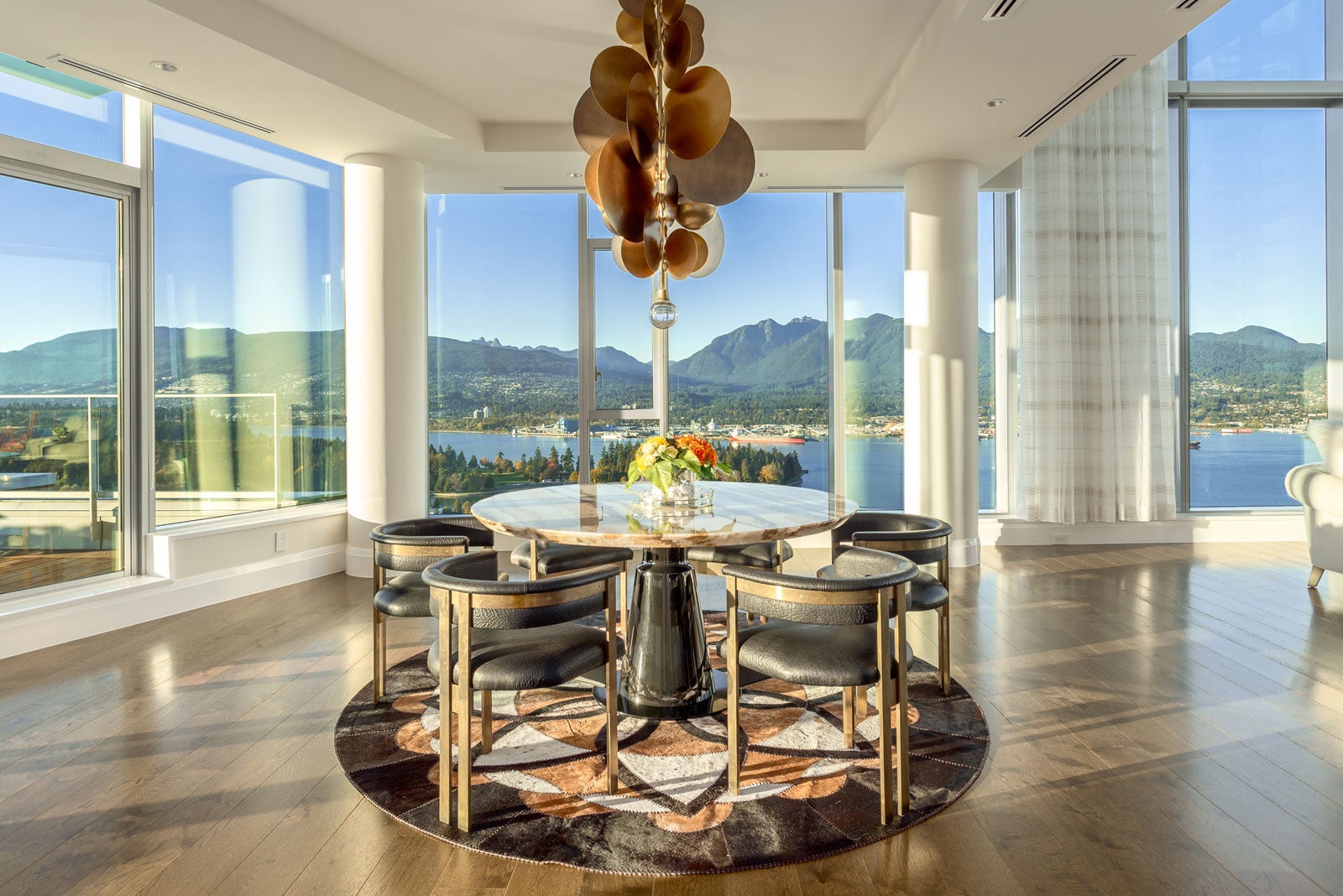 The opulent penthouse, with over 8,000 square feet of indoor space, four bedrooms, five bathrooms, and more than 4,700 square feet of functional outdoor space, was no small feat - but Bohn's impeccable style immediately gave the property a lift in luxury and west coast sophistication. 
"I wanted the homeowners to feel fully immersed in the 360-degree view," says Bohn. "We custom-designed an onyx-and-marble tile floor with a geometric pattern to mimic the angle of the distant mountains, paired dark marble with solid oak hardwood, and brought in extensive millwork with beautiful details." 

According to Bohn, this type of detailing is unique to the property and truly a one-of-a-kind, special project she's proud of. 
"Everything was highly customized – from the blown glass and braided metal cloud-like Bocci 73 random light installation, to the 10-foot-tall black and white marbled Nero Marquina stone fireplace. It's rare to see a home incorporate this much contemporary detailing.
Karin Bohn is the founder and creative director of the award-winning House of Bohn design studio. She established the interior design firm in 2009, and since has made her mark in many industries including luxury residential, multi-family, restaurants and retail. 
Dedicated to advancing her craft, Karin believes in invoking the unique soul of every project. Each space is designed with intention and her distinct aesthetic that is eclictic, bold, visually exciting and timeless, has become the trademark stamp behind House of Bohn's work. 
Her work has garnered awards, media coverage and global recognition, enabling her to expand her talented team, and service local and international clients.